Currently, one of the primary programs administered by DECAL under Georgia's SEEDS for SUCCESS is the Pyramid Model Implementation Project. This project supports teams of early childhood professionals by providing free training and technical assistance designed to help teachers use evidence-based strategies to improve classroom climate, and to prevent and reduce persistent challenging behavior. The Pyramid Model for Supporting Social Emotional Competence in Infants and Young Children (The Pyramid Model) is a framework of evidence-based practices that provides universal supports promoting the social emotional development of all young children, as well as additional supports for children and families with more complex needs. If you would like more information about the model please go to https://challengingbehavior.cbcs.usf.edu/.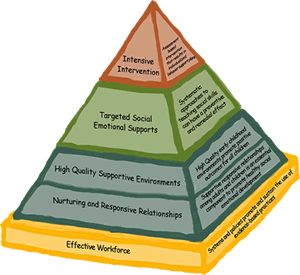 Project Goals:
To promote the social and emotional development of children, birth-five, through a collaborative professional development system that fosters and sustains the state-wide, high-fidelity use of the Pyramid Model.
Increase the capacity of the workforce in supporting the social emotional development of young children (birth – 5).
Pyramid Model Implementation Sites:
Programs receive on-going training and technical assistance provided to ensure fidelity of implementation
Programs across the state are engaged in program-wide implementation of the Pyramid Model framework
For more information, see this LINK.